Chat Playbooks Product Guide
Last Updated:
November 28, 2018
Drift Playbooks
Drift Playbooks: Playbooks are a central product within Drift. They are automated message workflows and campaigns that proactively reach out to site visitors and connect leads with the right reps from your team.
The Mission of Drift Playbooks: Qualify all site traffic, route every lead to the right rep, and make it easy for the marketer to demonstrate their success.
Have you ever wondered how we're able to send personalized messages to you like the one below when you visit our site www.drift.com multiple times?
The answer is Playbooks :) Pictured below is our Playbooks home, which you can find here in your Drift app:
If you click on the green button in the top right corner, you will be given an option to either create an email or chat playbook. For our intents and purposes, we will focus strictly on the chat playbooks here.
Playbooks (with the exception of the Welcome Message Playbook) are only for paid plans. If you want to see which ones you have under your current plan, you can check out our pricing page.
The Welcome Message Playbook - All Plans
This playbook can be used to greet site visitors and let them know immediately if your team is available during specific hours when Drift is online or offline. If the playbook is turned off, then the messaging will not pop up from the chat widget (this is true for all playbooks).
When we refer to Drift being online or offline, this is according to the business hours that you can configure for your organization in your Settings > App Settings > Chat Widget > Hours & Targeting.
The Welcome Message can be personalized to send from a random teammate or a specific one, so that the first thing people see are friendly faces of real reps, or a cute bot illustration (as shown below). Check out this help doc for more information for how we automatically create two Welcome Message playbooks for all new Drift users.
The LeadBot Playbook - Pro Plan and Up
LeadBot contains all the core functionalities to get the value out of Drift.
With LeadBot, you can 1) target prospects using intel, 2) qualify them automatically, and 3) connect them to humans or book meetings so that you can get more leads, faster.
Using LeadBot, your team has the most flexibility to ask any sorts of qualifying questions which you can let customers respond freely to or create automated button responses for. In addition, you can send automatic bot responses depending on whether they are qualified by your standards! Finally, you can then use routing rules to make sure the right people are added to the right conversations, so your sales team can handle inquiries and close deals, while your support team can make sure they're helping out your existing customers! The two overarching use cases for LeadBot are outlined below:
Having Sales Conversations On Your Pricing Page
Engage your visitors in a conversation directly during business hours. Place this LeadBot anywhere on your site to engage your visitors from a specific URL path. This Playbook can also send an automated message when your site visitors reach a certain Lead Stage, which can be a good tool for setting expectations on response time, demo requests, etc.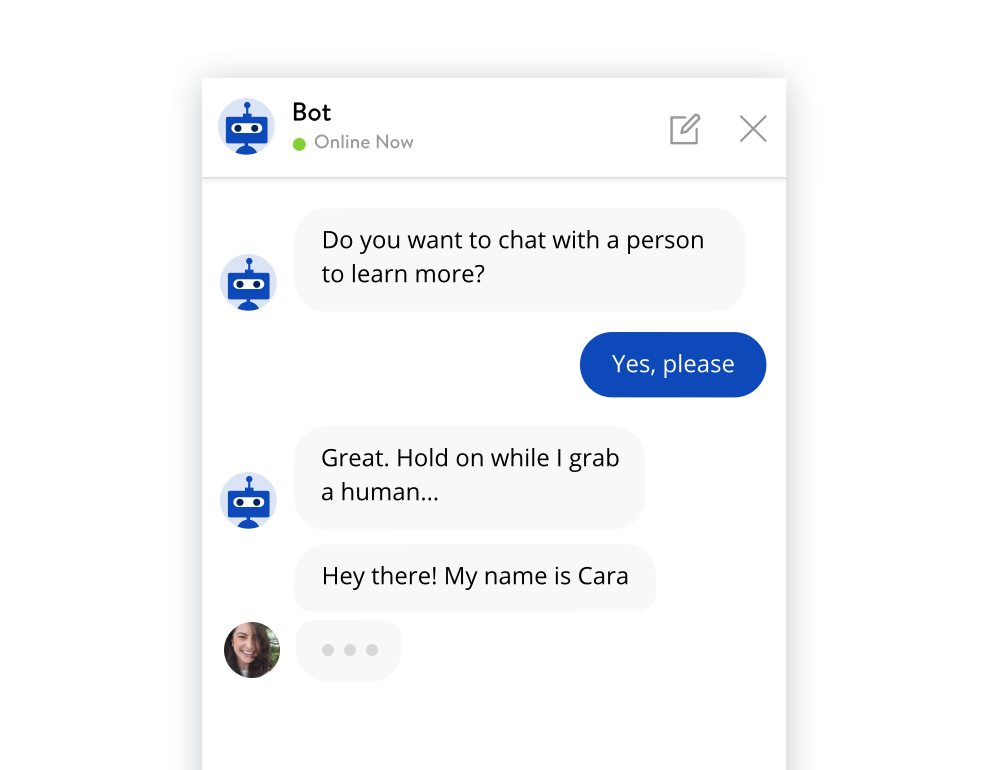 Booking More Qualified Meetings
We think that the largest value you can bring to your company is allowing your sales team to be able to have quality leads dropped right into their laps, rather than trying to find the metaphoric needle in a haystack. This playbook has be ability to qualify leads and schedule meetings with no human interruption!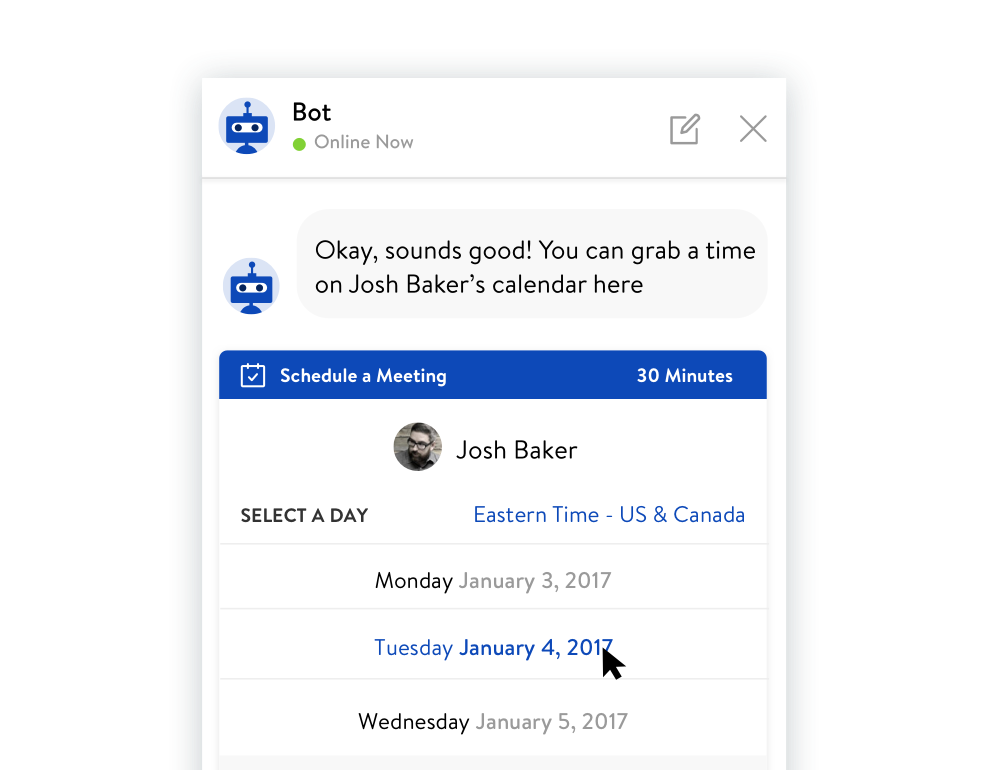 Because LeadBots are so flexible, the Drift team has already created a couple templates for you to use, which you can select based on your use case. See them in-app below:
Conversational Landing Pages
To connect with your leads NOW.
Take potential customers right from an ad to a bot conversation using a customized landing page which suits your brand and is completely free of distractions from the chat window. For a full explanation of Conversational Landing Pages, see this help article. In addition to functioning as a landing page, this is one of the best tools to easily test and optimize to build out your highest-converting campaigns.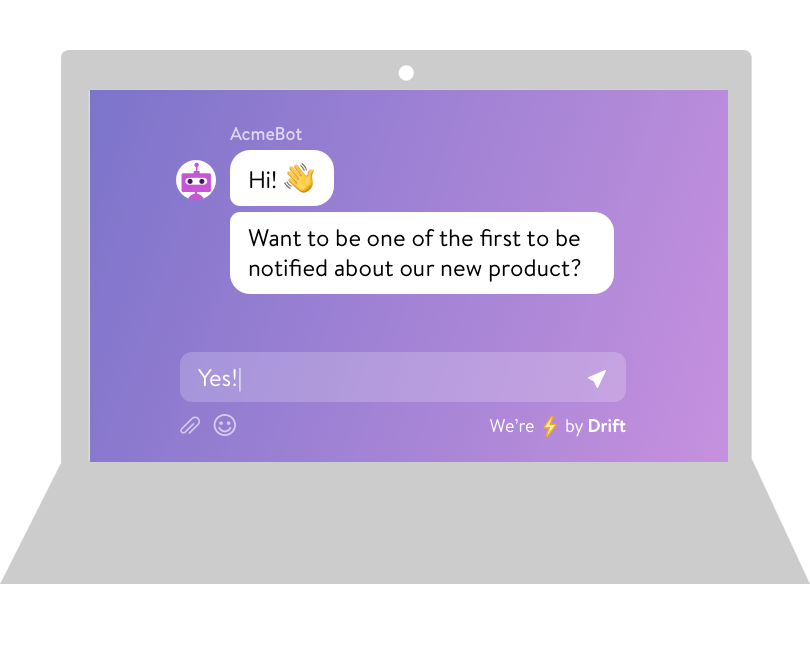 Slider Message - All Paid Plans
Drive Traffic with a Targeted Message On Your Homepage
This Pop-over Playbook is super useful when you are trying to direct your site visitors to a specific page on your site! It takes the form of a slider message, which comes directly from the chat widget and can be targeted to specific users for onboarding tips or for sales promotions and everything in between. It usually includes a single, simple Call To Action.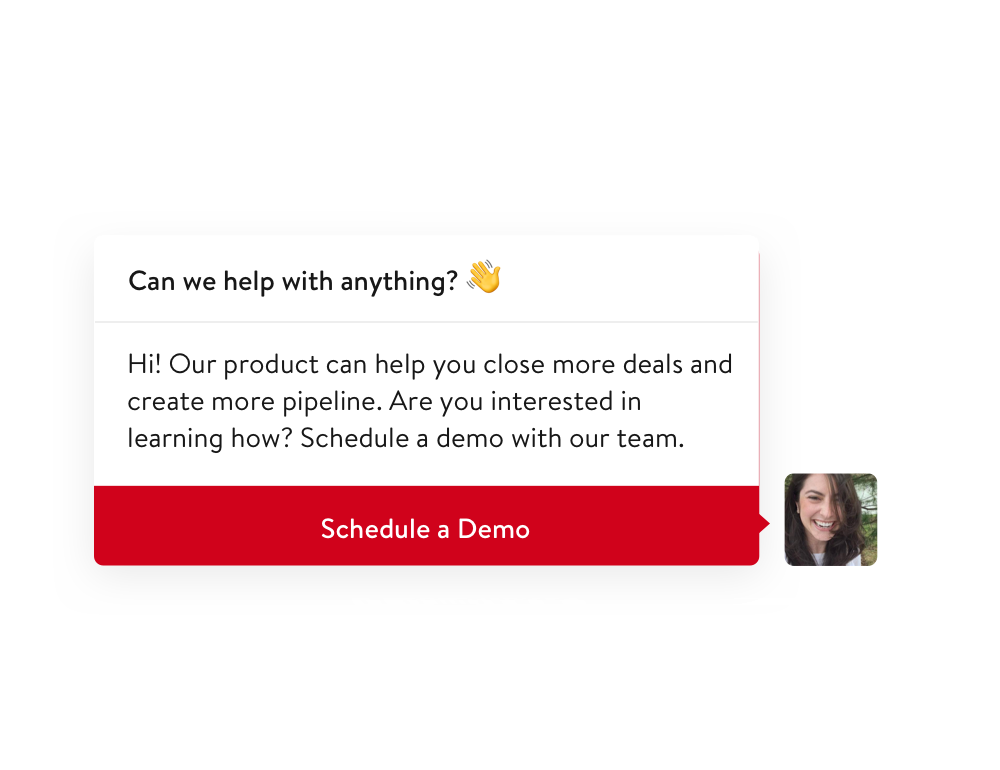 Full Screen Takeover
Run a Promotion
This Playbook is great for grabbing your site visitors' attention! A full screen message pops up when people land on your site.
You've probably seen something like this on all different kinds of sites and using CTA (call to action) buttons you can then direct traffic to your pricing page or a page that shows the product/service you are promoting.
Email Capture Message - All Paid Plans
Build a Blog Subscriber List
This Playbook is great for capturing emails from your site visitors!
If you're looking to add the emails of site visitors to your CRM this is a great way to gather those emails. This way you will have a list of users you know have been on your site or have shown interest in your product/service, and can now target these site visitors with other playbooks or marketing campaigns.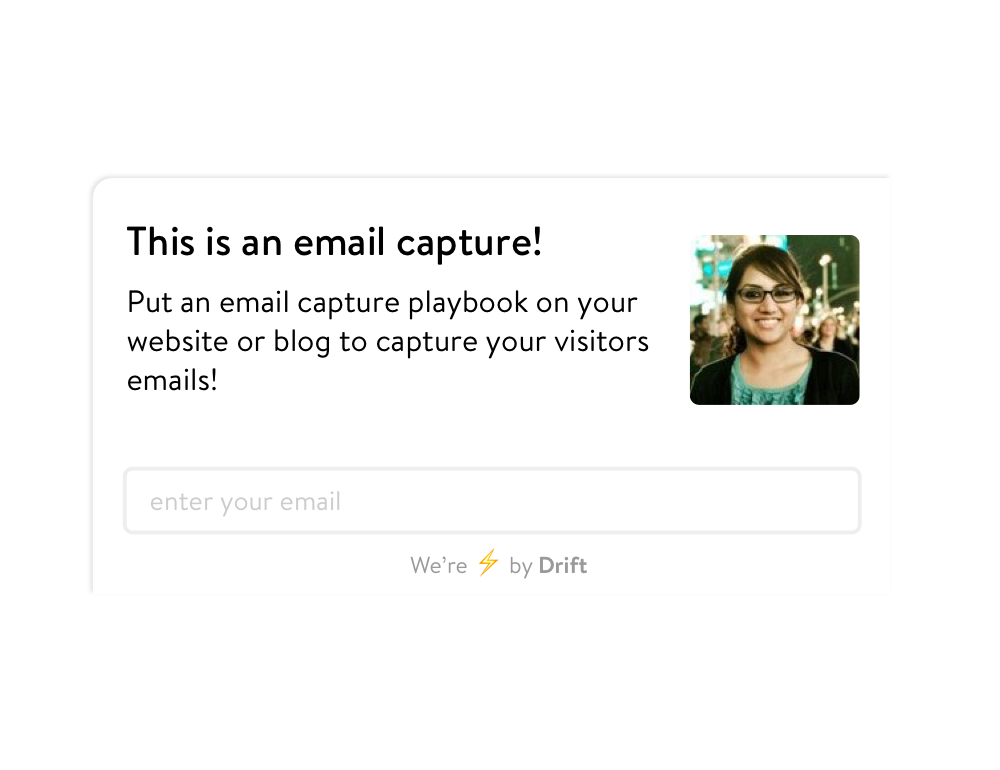 Account Based Marketing (ABM) Playbooks
Greet Outbound Prospects You Emailed
The Chrome Extension is free to use by anyone. However, if you'd like to fully customize this Playbook, you must be on the Pro plan or above.
Sending an email to prospects is something reps do all the time. But getting to talk with those prospects in a personalized way is not something that can be done with conventional outbound prospecting--until now! If you add a link to your email and send your email with the Drift Chrome extension, your prospects will be greeted with a personalized message when they click the link and come onto your site.
Greet your Targeted Accounts
This Playbook requires a Company or Enterprise plan with Clearbit add on.
If you've spent any time as an outbound sales rep, you know that prospecting accounts can be both really tricky and really rewarding when you finally close the deal. Just tracking the clicks on your emails can be frustrating when all you want to do is reach out to them and chat, or ask if they have any questions, or let them know you are there to answer anything.

With this Playbook, when a prospect lands on your marketing site, the Account Owner will immediately be notified, and a personalized message will be sent to the prospect from the Account Owner.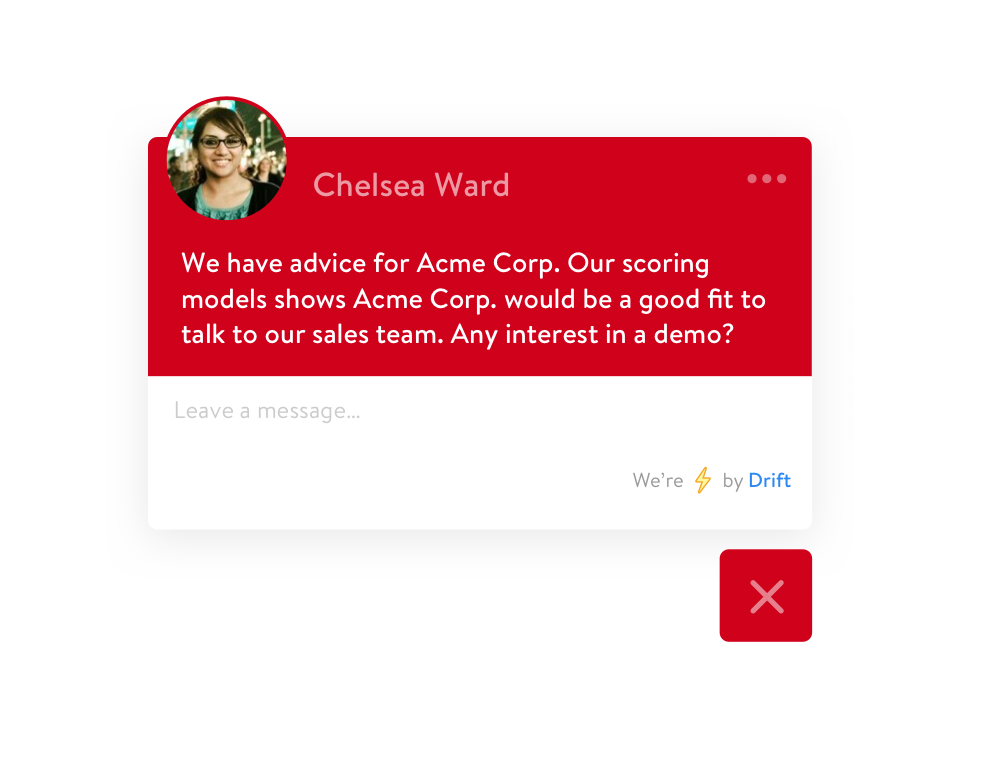 Managing Your Playbooks
We understand that being able to keep track of your Playbooks is important, since these are messages your site visitors are going to see and interact with. When you're in your Playbook home, you will be able to search for specific playbooks as well as filter through your Chat Playbooks by "Active" or "Archived".
Edit Your Playbook
In order to edit, archive, clone, or delete your playbook all you need to do is hover your mouse over the playbook name, then click the gear icon on the right to choose your action.
Playbook Reports
If you click on the Playbook title, you will be brought to the Playbook report. Here you will be able to see the breakdown of how many times the playbook was sent, the conversations that resulted, how many times the goals were reached--and then ultimately how many meetings were booked.